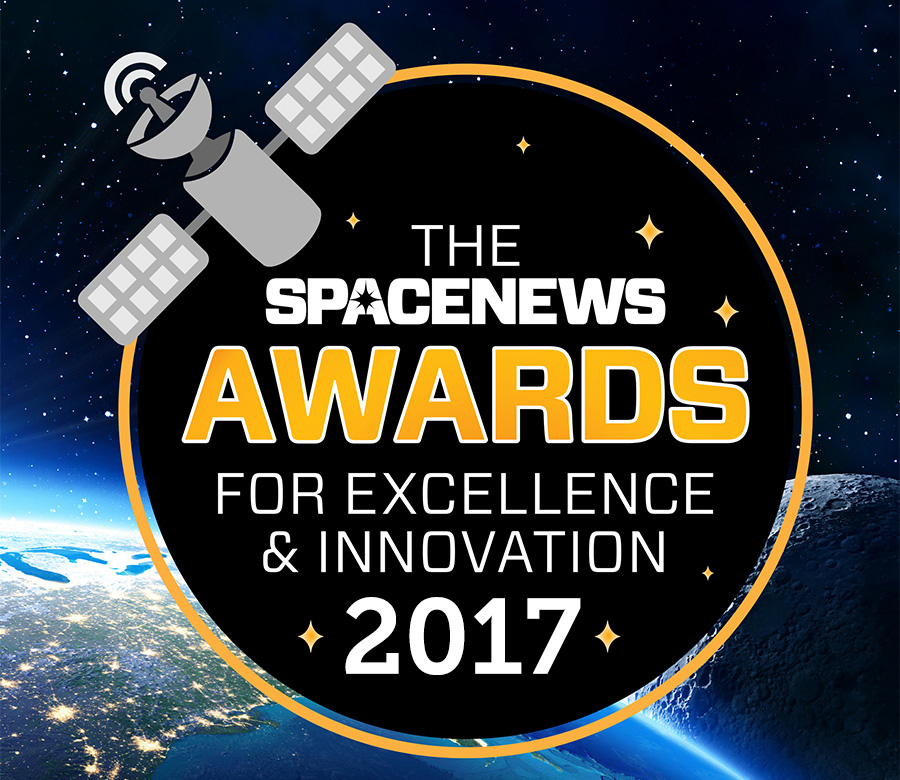 SpaceNews established these awards to honor the well-known champions and the unsung heroes shaping the global space industry. We endeavored to celebrate headline-grabbing breakthroughs as well as outside-the-limelight innovations.
The winners recognized in the pages ahead were chosen by the SpaceNews editorial team after an open nomination process that concluded with a reader poll.

PLANET COMPLETES 'MISSION 1'
Other Finalists


SpaceX's reusable Falcon 9 booster
Spectrolab's XTJ Prime solar cell
Lockheed Martin's SPIDER flat optical instrument
Sodern's Auriga miniaturized star trackers
Space System Loral's Ultra High Density Satellite
When Planet announced plans in 2013 to build the world's largest constellation of Earth-observing satellites capable of providing daily global imagery, it was hard to believe the tiny startup (or anyone for that matter) could accomplish that. Sure, cubesats were small and inexpensive, but they didn't produce high-quality images and had few reliable rides into orbit. Planet saw that firsthand when it lost 26 satellites in a 2014 launch failure and eight more in 2015.
Still, there was always something about the Planet team that made their claims impossible to dismiss. Maybe it was their engineering expertise and Silicon Valley-style ingenuity. After all, these were the same people who pushed commercial-off-the-shelf to the limit by sending smartphone technology into space when they worked at the NASA Ames Research Center. Plus, instead of following industry norms, they adopted an approach, now widely known as agile aerospace, that includes rapid prototyping, on-orbit testing and mass production.
Meanwhile, Planet kept growing organically and through smart acquisitions: it bought BlackBridge and its RapidEye Earth-observing satellites in 2015 and, earlier this year, purchased Google's Terra Bella and its SkySat high-resolution imaging fleet. In 2017 alone, Planet has launched 146 satellites on three continents.
With its current constellation, Planet is gathering 1.4 million images per day covering 300 million square kilometers. Planet's dataset has been embraced by farmers, environmentalists, intelligence analysts, human rights activists, hedge fund managers and anyone else who wants to see changes happening on the ground. Planet's breakthrough is its ability to offer customers daily images of Earth's entire landmass, a goal it refers to as "Mission 1."
For an encore, Planet is building a platform that employs machine learning and object-recognition software to help customers find answers to their questions. How many ships are moving in and out of Shanghai's ports on a daily basis? How many buildings are under construction in Texas? The company plans to create an index of physical changes comparable to Google's internet index. It's another audacious goal and Planet has plenty of competition, but we'd be foolish to dismiss it.

INTERNATIONAL LAUNCH SERVICES
Other Finalists


Orbital ATK
Alaska Aerospace Corp.
Spacecom
SpaceX
The year got off to an all-too-familiar start for International Launch Services. The U.S.-based commercial arm of Russian rocket maker Khrunichev hadn't launched a single satellite in six months thanks to a close call during Proton-M's launch of a commercial satellite the previous June.
The rocket's second-stage engine clocked out early during the misssion, forcing the vehicle's Briz-M upper stage to extend its burn to safely deliver Intelsat-31 to its destination. Given Proton's recent spotty track record, Khrunichev couldn't shrug this one off. Launches were suspended while investigators dug into Proton's close call with an intensity normally reserved for rocket explosions.
In January, just as Proton was about to be cleared to return to flight, Khrunichev encountered a bigger problem: a factory had used the wrong solder for a batch of engines, including the ones already installed on Protons assembled for upcoming missions.
Fixing the materials mixup consumed nearly half of 2017, pushing Proton's return to flight to June. Despite the late start, ILS completed all three commercial missions on this year's manifest.
With the late September launch of AsiaSat-9 — ILS's final mission of 2017 — Proton has 12 consecutive successes, passing the 1 in 10 failure rate insurers had crafted rates around. At 15 consecutive successes, ILS expects more underwriters to return to Proton as the rocket rebuilds trust.
Cheaper insurance should only help ILS grow its manifest, which withered as a result of Proton's failure-a-year performance between 2010 and 2015.
While the Russian government plans to use Proton five or six times next year, ILS itself currently has just one launch sold for 2018: a late-in-the-year dual mission carrying Eutelsat 5 West B and Orbital ATK's satellite-servicing Mission Extension Vehicle-1.
Still, ILS delivered this year's customers safely to orbit while undertaking the introduction of two new well-timed products: a two-stage Proton Medium on tap for 2018 and a 5-meter payload fairing envisioned for 2020.
Proton Medium is designed to haul roughly five tons to geostationary transfer orbit at prices ILS President Kirk Pysher said will allow the rocket to compete head-to-head with SpaceX's Falcon 9. The 5-meter payload fairing, meanwhile, will accomodate bigger satellites as well as clusters of smallsats megaconstellation customers want to catapult into orbit all at once.
ILS is also planning a Proton Light intended for three-ton payloads, but that project is on hold until Proton Medium is complete.
ILS isn't out of the woods, but after a pivotal 2017 the company is heading in the right direction.

SPACEX
Other Finalists


Planet
Arianespace
Maxar Technologies
Nanoracks
For several years, SpaceX offered a number of promises to the space industry: frequent launches, reusable rockets, and a new heavy-lift vehicle.
And, for much of that time, SpaceX struggled to deliver, thanks to delays, technical problems, and two high-profile launch failures.
However, 2017 was the year SpaceX really started to carry through. The company entered the year still recovering from its last mishap, the September 2016 pad explosion. The company returned to flight in January, launching the first 10 Iridium Next satellites from California. A month later SpaceX brought Kennedy Space Center's Launch Complex 39A, last used at the end of the shuttle program, back to life launching Falcon 9 rockets while repairing the company's Cape Canaveral pad damaged in last year's explosion.
Bring 39A online allowed SpaceX to finally hit its stride. By the middle of December, SpaceX had carried out a record-high 17 launches in 2017. (One more launch, of a fourth batch of Iridium satellites, is scheduled to take place before the end of the year.) This year's pace included two launches two days apart on opposite coasts, and three launches within two weeks.
SpaceX also turned reusability from an experiment — one that, initially, resulted in a series of failed landings — into a regular part of its operations. With successful demonstrations of "flight-proven" first stages in 2017, SpaceX has been able to convince even relatively conservative customers, like NASA and Iridium, to fly on reused boosters to save money or time.
SpaceX will need the momentum it built up in 2017 for its even bigger plans in 2018. The company is planning to increase its launch rate by up to 50 percent in 2018, which will be assisted by the recent completion of repairs to its Cape Canaveral launch pad. The long-delayed Falcon Heavy rocket is slated to launch as soon as January, and SpaceX has two critical test flights of its commercial crew vehicle scheduled for later in 2018.
SpaceX still has ambitions for Mars, which company founder and CEO Elon Musk updated in a September conference address that attracted worldwide attention. Musk said the first launches of SpaceX's planned BFR rocket to Mars could take place in 2022, a timeline he admitted was "aspirational." However, SpaceX demonstrated in 2017 what was previously considered aspirational, like high flight rates and reusability, can be achieved, eventually.

KYMETA
Other Finalists


Sky and Space Global
LeoLabs
Made In Space
Rocket Lab
Kymeta might not seem like your typical startup, but it was only five years ago that the company spun off from Intellectual Ventures, an intellectual property juggernaut often derided as a patent troll. With $12 million in early funding from Bill Gates and others, Kymeta set out to use metamaterials to build a better antenna for mobile applications.
This year, Kymeta delivered on that promise, finally shipping its eagerly awaited product: a flat, lightweight antenna terminal with no moving parts.
Customers ranging from railroads to farmers started using Kymeta's mTenna flat-panel antennas this year to support high-throughput communications on the go. The U.S. Federal Emergency Management Agency used Kymeta-deployed antennas in Puerto Rico this fall after Hurricane Maria destroyed cellphone towers across the island.
Kymeta's product shipment cemented its position as the frontrunner of a new breed of flat-panel antennas that promise to open new markets, boost the capability of high-throughput satellites and enable low-Earth-orbiting megaconstellations to achieve their full potential.
The Redmond, Washington-based company's antennas use electronic steering instead of mechanical systems to track satellites and enabling continuous service while switching between beams.
Kymeta also completed a new connected car trial this year, taking a Toyota RAV4 on a two-week road trip across the United States to demonstrate KĀLO, a bundled service combining Kymeta's mTennas and KyWay terminal with Intelsat's satellite capacity that provided mobile internet access along every stretch of the crosscountry route.
Kymeta anticipates expanding the rollout of its antennas in 2018. Borrowing assembly lines from LCD television manufacturer Sharp, Kymeta is in the process of mass-producing antennas the satellite industry will use to connect the world's planes, trains and automobiles, not to mention plenty of ships, tractors and construction equipment.

45TH SPACE WING
Other Finalists


Indian Space Research Organisation
FAA's Office of Commercial Space Transportation
NOAA's National Environmental Satellite, Data, and Information Service
The 45th Space Wing at Patrick Air Force Base, Florida, spent a chunk of 2017 in the crosshairs of massive Atlantic hurricanes. But the wing has not let storms derail its plans.
As Hurricane Irma pounded the Florida coast in September, the SpaceX Falcon 9 launch vehicle was scheduled for its first flight with the Air Force X-37B Orbital Test Vehicle. While the wing continued to make storm preparations, the Falcon 9 successfully lifted off from the Kennedy Space Center's Launch Complex 39A.
"This phenomenal team makes the impossible possible," says Wing Commander Brig. Gen. Wayne Monteith.
The 45th Space Wing racked up more than two dozen launches and landings in 2017, placing over $6.5 billion of national security and commercial satellites in orbit and making Cape Canaveral the busiest spaceport in the world.
Monteith is rallying his troops as he embarks on what he calls a "Drive to 48." That's 48 launches a year by 2021, an average of roughly one a week.
This surge in East Coast launch operations is projected as Blue Origin begins to fly along with SpaceX, United Launch Alliance, Orbital ATK and others. The "Drive to 48" has led to multiple improvements for the space industry, the most important being the first use of autonomous flight safety systems for booster launches and landings.

ÉTIENNE SCHNEIDER
Other Finalists


George Nield, FAA's Office of Commercial Space Transportation
Jean-Yves Le Gall, CNES
Catherine Mealing-Jones, U.K. Space Agency
A member of the Luxembourg Socialist Workers' Party would seem to be an unlikely champion of asteroid mining ventures. But Étienne Schneider, who represents his party in Luxembourg's coalition government as deputy prime minister and minister of the economy, has become the biggest proponent of the emerging space resources industry among government officials in any country.
Under Schneider's leadership, the country established its SpaceResources.lu initiative in 2016, offering 200 million euros — and promises of a friendly legal regime — to attract space resources companies to the country. That has lured companies including Deep Space Industries and Planetary Resources from the United States, and ispace from Japan, to set up offices in Luxembourg. In July, Luxembourg's parliament passed legislation that grants companies operating from the country rights to space resources they extract, similar to a U.S. law passed in 2015.
However, those efforts have attracted more than just lunar and asteroid mining companies. In November, Spire announced it would establish its European headquarters in the country, which will eventually host as many as 250 employees. In turn, the Luxembourg Future Fund would participate in Spire's $75 million Series C funding round. Schneider hailed the deal as the latest milestone in "our government's three-decade history of attracting ground-breaking companies in this sector," dating back to the formation of Luxembourg-based satellite operator SES in the 1980s.
There's more to come from Schneider and Luxembourg. In a speech in November at the NewSpace Europe conference in Luxembourg, he said the country was working to establish a national space agency that will act as a public-private partnership with venture capital funds to invest in more space companies. "Luxembourg is ready and eager to support and nurture the growing number of commercial space initiatives," he said.
The focus on space resources has not been without some controversy. "Some people in this country thought that I had become completely mad when I launched this initiative," he said at the conference. But he's playing a long game with the initiative. "There is a big chance that the official language of space will one day be Luxembourgish."

GEN. JOHN HYTEN
Other Finalists


Brig. Gen. Wayne Monteith, 45th Space Wing
Robert Cardillo, National Geospatial-Intelligence Agency
Gordon Roesler and the DARPA Robotic Servicing of Geosynchronous Satellites team
It is hard to think of any recent government civilian or uniformed leader who has shaped the debate about military space more than Gen. John E. Hyten.
When Hyten was a colonel in the U.S. Air Force 20 years ago, he raised eyebrows with his prediction that there would be a war in space. "It just seemed obvious to me," the now four-star commanding general of U.S. Strategic Command said recently.
He also presciently warned that emerging competitors like China were preparing for the day when military conflict moved into space. "So our job was going to be like fighting war in any other domain: deter that conflict and if it does happen…figure out how to fight it and win."
Hyten was a "space warfighter" before the term was even part of the military lexicon.
Hyten led Air Force Space Command from 2014 to 2016, and served as its vice commander from 2012 to 2014. He now runs the nation's nuclear enterprise at STRATCOM but still keeps a close eye on space.
To give space forces greater visibility and status, Hyten reorganized STRATCOM and created a Joint Force Space Component Command led by Air Force Space Command chief Gen. John Raymond. Hyten called this a major development in evolution of space as a military mission. By this time next year, STRATCOM will have air, land, maritime and space components.
Although Hyten is no longer directly overseeing military space operations, he intends to play a key role shaping future requirements for new satellite constellations.
He worries that the Pentagon is being complacent about U.S. space dominance and not preparing for a future when space will be contested.
Hyten recently issued a stark warning: "Our adversaries are building capabilities to change the balance of power in the world. We can't allow that to happen."

GWYNNE SHOTWELL, SPACEX
Other Finalists


Jeffrey Manber, Nanoracks
Rick Ambrose, Lockheed Martin
Jason Andrews, Andrews Space
Kirk Pysher, ILS
SpaceX is indelibly linked to its founder, Elon Musk, who has crafted a vision for the company of establishing humanity as a multiplanetary species. He has attracted rock-star levels of publicity that are unprecedented in the space industry. When Musk spoke at the International Astronautical Congress in Australia in September, organizers had to take significant crowd control measures, recalling the chaos of when he spoke at the same conference a year earlier in Mexico.
However, Musk is a busy man. In addition to SpaceX he also runs electric car company Tesla, has a startup called Neuralink that is developing brain-computer interfaces and another startup, The Boring Company, that wants to relieve traffic jams with tunnels. Needless to say, he can't devote all his time to SpaceX.
What helps keep SpaceX focused on carrying out its growing manifest of launches and various development projects is the company's president, Gwynne Shotwell. While she is not as famous as Musk, her leadership has been essential to SpaceX's success. Joining SpaceX in 2002 as vice president of business development (and one of its first employees), she has been overseeing the company's growth into a major force in the space industry.
"When I started I was the seventh employee at SpaceX, and we have almost 7,000 people now," she said in a November conference speech. She's sought to find the right mix of employees who work on the development of new vehicles as well as those who handle the operations of existing ones, like the Falcon 9 and Dragon. "We need that launch cadence. That's the fuel for SpaceX's development."
She's helped ensure that SpaceX has plenty of fuel this year. The company has had a record year with nearly 20 launches, and Shotwell said in a November interview that she wants to increase that launch rate by 50 percent in 2018, eventually reaching 30 to 40 launches a year. Those launches are supporting the development of the Falcon Heavy, the crewed version of Dragon and, most recently, the company's proposed BFR vehicle.
But while she's focused on Spacex's operations, she shares Musk's vision of humans going to Mars. "What is all this leading to?" she asked in that November speech after recounting the recent company successes and near-term plans. "These are all stepping stones along the path of us developing a space transportation system capable of taking humans to other planets."

Maxar Technologies
Other Finalists


Planet buys Terra Bella
Speedcast buys UtilSat
Teledyne buys e2V
Virgin Group lands $1 billion Saudi investment
After MacDonald Dettwiler and Associates revealed plans in February for a $2.4 billion merger with DigitalGlobe to create a joint company called Maxar Technologies, it was easy to see how the puzzle pieces fit together.
Since Canada's MDA bought satellite builder Space Systems Loral in 2012, the firm has been expanding its presence in the United States and looking for a foothold in the lucrative U.S. government market. As part of its U.S. Access Plan, MDA appointed American citizen Howard Lance, the former Harris Corp. chief executive, as its president and chief executive in 2016 and established SSL MDA Holdings Inc., which manages the company's global operations from its headquarters in San Francisco. Purchasing DigitalGlobe with its strong ties to U.S. defense and intelligence agencies was a logical progression.
DigitalGlobe, meanwhile, has been diversifying its business to share geospatial imagery and information with a wider pool of international government and commercial customers. Still, the company remained heavily reliant on a single contract: EnhancedView, which provides geospatial imagery and information to U.S. government customers through the U.S. National Geospatial-Intelligence Agency. About 45 percent of DigitalGlobe's revenue was tied to EnhancedView, which will account for about 15 percent of Maxar Technologies' business.
Plus, both firms are geospatial-imagery experts: MDA is known for synthetic aperture radar while DigitalGlobe is known for electro-optical imaging. DigitalGlobe boasts a fleet of high-resolution Earth-observation satellites and MDA operates many of the ground stations that collect, process and distribute those imagery products around the world.
Since the proposed merger was announced, more pieces have fallen into place. MDA SSL, a leading communications satellite manufacturer, is building WorldView-Legion, DigitalGlobe's next-generation Earth-imaging constellation.
It's too soon to see how the entire puzzle will look once its fully assembled, but with 6,500 employees in the United States, Canada and around the world, it's clear Maxar Technologies possesses some impressive capabilities in spacecraft manufacturing, satellite ground systems, space robotics, Earth imaging and geospatial-data analysis.

JASON CRUSAN, NASA
Other Finalists


Frank "Ceppi" Cepollina, NASA
R. Gilbert "Gil" Moore
Utah State University
Tom Mueller, SpaceX
Guy Perez, OHB
Eric Rehder
Boeing Spectrolabs
NASA's exploration budget is dominated by big programs: the Space Launch System, the Orion spacecraft and their associated ground systems. They attract the dominant share of public attention — as well as the angst when they encounter delays and other difficulties.
However, within NASA's Human Exploration and Operations Mission Directorate is a relatively small office addressing the question of what additional capabilities will be needed, beyond SLS and Orion, to enable human exploration of the moon and Mars. The Advanced Exploration Systems division, led since its establishment in 2012 by Jason Crusan, is working on a variety of projects to develop capabilities needed for future exploration.
One of the division's best-known efforts is Next Space Technologies for Exploration Partnerships, or NextSTEP. This started as a series of partnerships with industry to study the development of habitation modules that could be used either for NASA missions, like the Deep Space Gateway, or for commercial applications like future space stations. A second phase of that effort involves six companies studying or building ground prototypes of their modules.
NextSTEP has grown beyond habitation module studies, though. The program recently awarded studies to several companies on a power and propulsion module that would form the core of the Deep Space Gateway, incorporating electric propulsion technology that may also have commercial applications. Other NextSTEP efforts include development of 3-D printer prototypes that could be key for future exploration missions and, most recently, a call for proposals for the development of technologies to make use of resources on the moon and Mars.
Crusan's division oversees other projects associated with developing key exploration technologies and capabilities, often working cooperatively with companies and universities. One example is the Lunar Cargo Transportation and Landing by Soft Touchdown, or CATALYST, program, providing technical support to companies developing commercial lunar landers. That effort is likely to take on new prominence with President Trump's Dec. 12 directive ordering NASA's human spaceflight program back to the moon.
Advanced Exploration Systems may have a low profile compared to programs like SLS and Orion, but the projects it is carrying out under Crusan's leadership may be critical to making those larger programs a long-term success.